ASE Certified – What does that mean?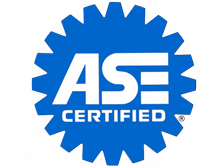 ASE certifications tests automotive professionals in all major technical areas of repair and service.
ASE certifies the technical competence of individual technicians. By taking ASE certification tests, technicians prove their technical competence to themselves, to their employers, and to their customers. Because the ASE program is primarily voluntary, ASE certification becomes a self-selecting credential that weeds out the less competent.
Technicians are tested on all major areas of auto repair: Engine Repair, Engine Performance, Electrical/Electronic Systems, Brakes, Heating and Air Conditioning, Suspension and Steering, Manual Drive Train and Axles, and Automatic Transmissions. ASE requires technicians to be re-tested every five years to keep up with technology and to remain certified.